Fine Art Prints From My Studio
Dec 01, 2016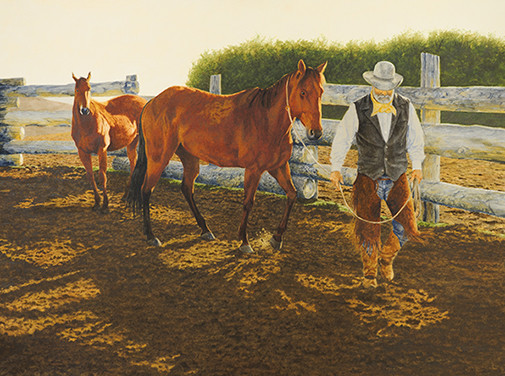 Morning Mount - Watercolor
I like the idea of printing digital fine art prints in my studio. I have been at it for a long time. For me it all started some twenty plus years ago when I purchased a desktop thirteen inch wide format printer.
That first printer printed images well but it was a bearcat in tracking the paper straight through the out feed. Large prints came out skewed. Not good. Fast forward to now and wide format archival printers are outstanding in every way. With skill and the right production equipment archival wide format pigment printers are capable of producing marvelous prints time after time without exception.
It all begins with an original painting. Using a high quality digital camera equipped with a high-end lens and proper camera settings and lighting a digital photo is taken of the painting. The image is then downloaded into a computer and processed using image manipulation software such as Photoshop. I prefer Photoshop because of its quality output plus I have experience with the many nuances the program has to offer for color management and image manipulation.
It is always fascinating to color correct an image in preparation for printing. Images are seldom perfect right from the camera and usually need some adjustments before they are ready for final printing. When color correction is completed the image is sized and made ready to print.
Printing is straight forward with one exception and that is .icc color profiles. Color profiles make it possible for the computer and the printer to communicate with each other with specific instructions from the human operator. Things go awry quickly if this aspect is skipped or if the wrong .icc profiles are used. I prefer to construct my own .icc profiles to specifically match my input-output data systems with the archival canvas and paper I use for art prints.
To achieve the finest art prints possible I use only archival rated canvas and paper as well as archival pigment inks for print production in my studio. When watching a print come off the printer it never ceases to amaze me how the complex digital printing process produces such a superb fine art print. The canvas and paper prints are a work of art and delightfully elegant.
The end print result is a work of art with a beautiful breathtaking image on canvas or paper. To see examples, go to my home page and browse the many available archival art prints produced in my studio.