If you have any questions contact us. We are here to help you with answers.
Does this website have secure checkout?
This website provides a secure checkout with SSL encryption.
How long does it take to process my order?

Your order is special to us and we take great care in making sure it is processed to your specification. It may take 2 to 5 business days to allow for printing, packaging and shipment of your fine art print order. Originals paintings require special packaging and also require up to 5 business days for processing. A canvas fine art prints is ready to hang on your wall upon arrival. If you have any questions about the process please contact us.
Are limited edition prints signed?
Yes, each limited edition fine art print is signed and numbered by Raymond. Print editions are limited in most cases to forty-eight prints in each edition.
What is an archival fine art print?
Modern day museum quality archival fine art prints are produced using a high end pigment ink printer. Images printed on archival certified canvas or paper with pigmented inks will produce a print with longevity and lasting beauty.
Positive attributes of an archival fine art print on canvas or paper found on this site.
Archival certified canvas or paper is used on all prints available on this site. The display life is estimated to be several generations.

Pigment inks are used to print the images on the canvas or paper surface for enhanced longevity.

A UV inhibitor varnish is applied to the surface of a canvas print to seal it from the elements. The varnish also eliminates the need for a protective glass cover when framed or for gallery wrap canvas prints.

Paper prints are not varnished. They are also archival and have an exception longevity when framed using archival methods. To enhance display life use a glass with UV protection.

In many cases a canvas print has the look and feel of an original painting.

Gallery wrap prints are ready to hang out of the shipping box.
What is a gallery wrap print?

What is a gallery wrap print? A canvas print is mounted on an adjustable stretcher bar by wrapping the print edge around the edge of the stretcher bar. The four corners are tucked in-between the corner of the two adjoining bars. The picture below describes the finished look in a visual format.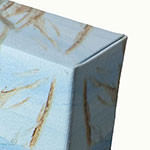 Do you do appraisals of Raymond Wattenhofer's art?

Raymond is not an official appraiser and is not able to legally appraise artwork, not even his own. For a general idea of artwork value please see art on this website. For insurance reasons, to ensure adequate coverage of the art, a valid appraisal my be appropriate from an official art appraiser. To find an appraiser search local directories or visit http://www.appraisers.org
Are originals available on this site?
Yes, visit Originals where you will find featured original art for sale.
Do you offer framing of your artwork?
Yes and no. Currently, some originals are offered framed. No frames are offered with prints.
Is sales tax charged on a purchase from this site?
Sales tax is applied according to current laws.
What is your return - exchange policy?
Canvas and Paper Print Return Policy:
At any time within 30 days of your purchase you decide the perfect art piece you have chosen does not fulfill your dreams of a bright and beautiful space, just call 218-252-3309 and tell us. We'll give you a complete refund or you may exchange the art for another piece. You may also email us to express your wishes. See Returns and Exchanges for full details.
Original Painting Return Policy:
It is understandable if your choice of purchase is for an original painting. There is an undeniable richness of character in a painting. If after you receive a painting and had some time to "live" with it you decide it isn't what you expected and want to return it, please contact us within 10 days of the receipt of shipment at 218-252-3309 to make arrangements for its return. See Returns and Exchanges for full details.
How much is shipping?
Shipping cost varies with the amount of purchase. From time to time free shipping is offered.
Don't see an answer to your question?
Contact Raymond Wattenhofer or call 218-252-3309.
---